Commercial Privacy Window Film Dallas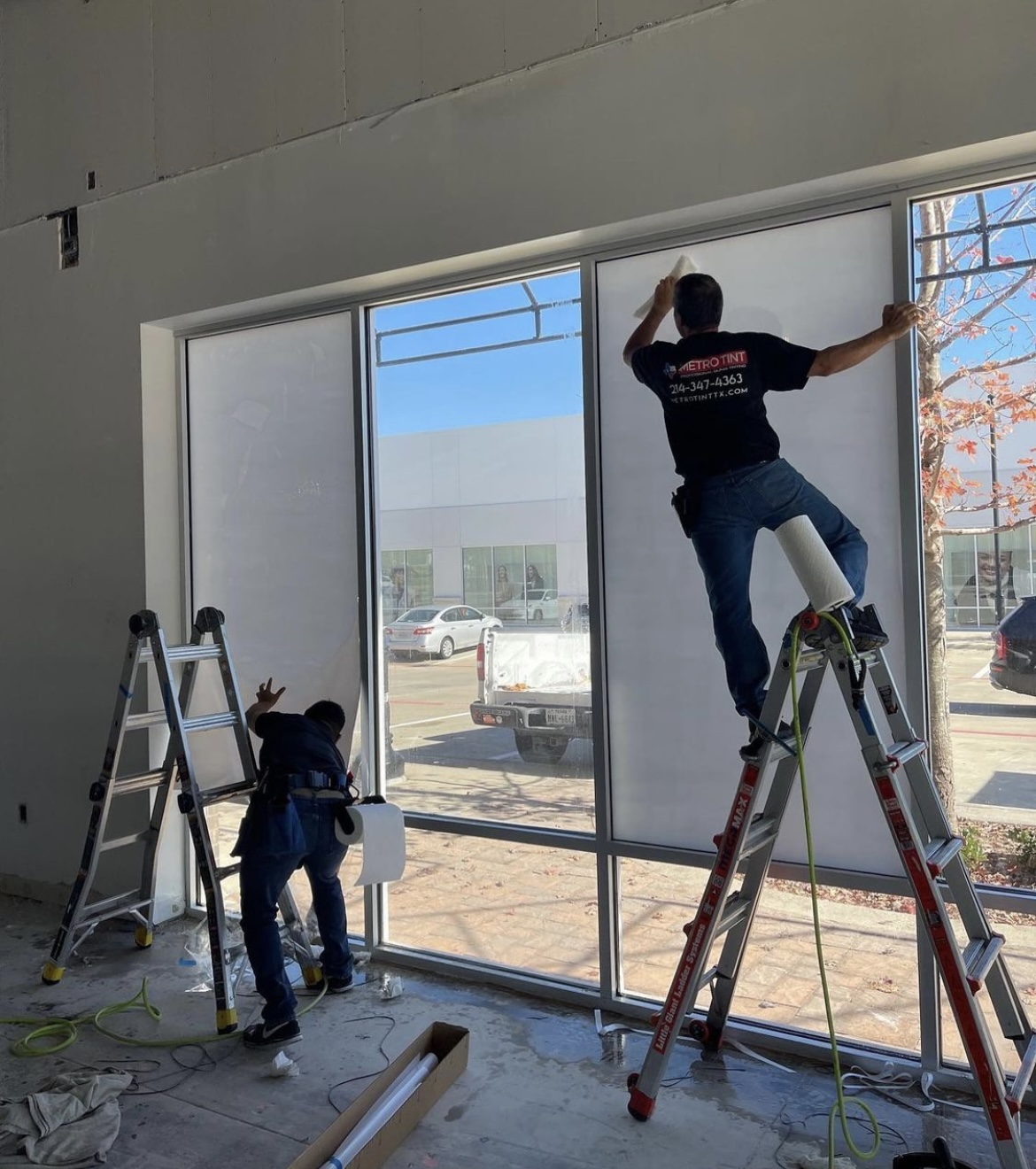 Commercial Privacy Window Film Dallas
Our window film products are the easiest, best way to improve the windows in your home, office or commercial building. We offer 100% satisfaction with all our installation services. Our goal and mission are to help you discover your best window film solution. Call us today to learn more!
What is a Privacy Window Film?
Privacy vinyl and privacy films allow flexible customization and a more defined layout of interior spaces. This allows the creation of different atmospheres, as well as privacy, in offices, commercial premises, and homes.
The application of a film or vinyl has the function of providing a space with intimacy. In this way, any glass can be transformed into an acid-etched or frosted glass effect. This allows filtering the glances while preserving the luminosity. In addition, its aesthetics and ease of maintenance allow its use in many places.
Advantages and Disadvantages of a Privacy Window Film

We are Metro Tint Texas
We provide window films dallas. Sun control, security, and aesthetic window film solutions are offered by Metro Tint Services for commercial, office, and retail facilities. Security Window Films are used to safeguard your renters, customers, and property from the dangers of broken glass caused by severe weather, explosions, and natural disasters. By delaying and denying entry through glass doors and windows, security window films can help prevent burglaries, break-ins, and active shooters. Furthermore, they regulate the temperature and provide the office with a high sense of privacy as no one from the exterior can glance in.
Two Types of Privacy Films
Privacy is available in a variety of forms with window films. Blackout window films provide total two-way privacy (in and out) while blocking out the majority of light. These films will provide you with 100% indoor privacy protection, even when there's no light to reflect.
They also block 99% of UV rays, protect skin from damage, and reduce furniture fading and aging. This makes these film windows perfect for an office – you protect your employees and also provide them with privacy.
White Opaque Window Films
Because of its many uses and benefits, the white opaque film is a popular specialty window film. It gives you privacy and allows light to pass through while obscuring any visual details of what is on the opposite side.
Another reason for using opaque white window film is aesthetic reasons. The sun's light is not blocked, but vision into the room is. The white window film protects natural light, ensuring that the desired fresh and clean ambiance is maintained. It's a great way to let light into a room by filtering it through a bright, 'fresh' film.
Most varieties of window film, in general, provide some amount of UV protection and can also operate as heat control window films – blackout films are not the only ones that achieve this. Furthermore, they are both simple to install and maintain. In the end, the decision is up to the customer and their needs.