Riot Glass Security Panels vs Security Window Film
Posted - September 28, 2020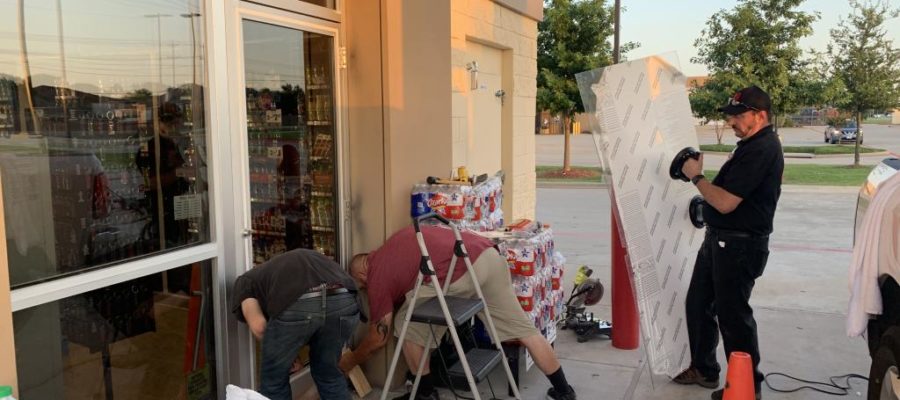 It's simple. Riot Glass security panels protect your property better than security window films.
Security window films provide a protective layer to increase the level of protection your glass provides. Installed on the glass and (hopefully) secured to the frame using an anchoring system. Security films hold broken glass together. They make it more difficult to get inside by breaking through the glass.
Professionally installed security window film can delay entry for up to 1-2 minutes. Thicker films are better than thin ones, but that doesn't change the fact that security films only delay entry through the glass.
In a lot of instances this delay is enough. One to two minutes is a lot of time when alarms are going off and you're worried the police are on their way.
When you want or need more protection however, it's time to consider Riot Glass.
What is Riot Glass?
Riot Glass security panels are a clear glazing security system installed over your existing glass windows and doors. Designed, tested, and proven specifically to stop intruders and keep out the bad guys.
The system's containment grade poly-carbonate sheeting and unique, patented framing system gives you extreme protection against forced entry attempts, looters and thieves. Even under sustained assault the Riot Glass system keeps people out.
Why is it better than Security window film
Security window films were originally designed to contain glass fragments caused by explosions and terrorist events. They were then re-purposed for forced entry prevention, anti-intrusion, and active shooter defense.
Riot Glass security panels were created out of frustration with security window films and other anti-intrusion methods. It was designed from the ground up go to stop intruders from smashing their way inside through the glass.
Riot Glass

prevents entry through your glass doors and windows

. It does not simply delay the bad guys for a couple minutes.
Riot Glass doesn't need an anchoring system. Effective anchoring is part of the system.
Riot Glass provides protection immediately. It doesn't need time for an anchoring system to "cure" or for adhesives to dry out.
Riot Glass is affordable, with an investment slightly more than security window film and less than roll down shutters and security gates.
Riot Glass blends naturally into your existing glazing system and is virtually undetectable to the untrained eye. It's doesn't give your business that appealing "Fort Apache" look  like roll down shutters and security gates do.
Riot Glass is a bespoke solution. We customize every installation based on your existing glazing – glass type and framing system, the threat, and your budget.
To discover if Riot Glass will work for you contact us at 214-441-7459
Metro Tint Texas
Your Dallas Riot Glass Dealer