Safety Measures at School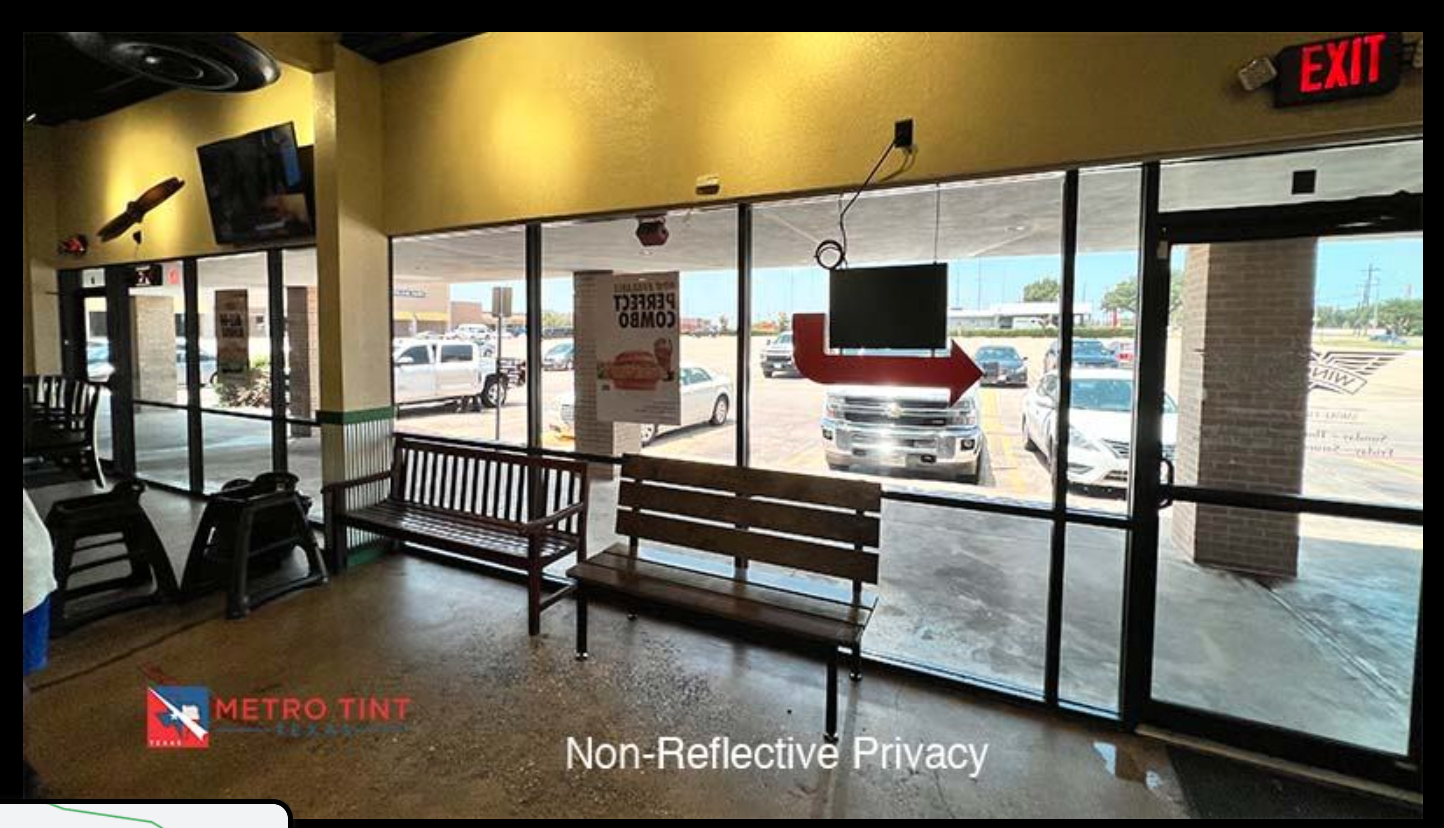 The importance of bolstering safety within educational facilities cannot be overstated — for both parents and school authorities. Amidst increasing instances of security breaches, developing innovative safety measures at school to protect students and faculty is absolutely necessary.
One such answer lies in protective security window films. These specialized window coverings can play a key role in cultivating a safe environment during school hours while also helping to maintain a warm school environment without making drastic changes.
At Metro Tint Texas, we take pride in providing this effective, reliable safety solution. Our certified, experienced technicians ensure meticulous attention to detail during installation to provide maximum levels of protection.
Have your safety committee contact Metro Tint Texas today to access our professionals for a thorough consultation that will improve your school's safety.
Why Use Our Safety Measures at School?
Over the past several decades, the vulnerability of glass windows has become more apparent. School authorities can use many strategies and deterrents that make a difference during an emergency.
Security cameras, monitored doors, and security staff are all crucial ways to impact the safety of your campus. Effective communication systems are important as well. But none of these strategies specifically protects the glass windows of school buildings. This is where security window films come in.
Metro Tint Texas provides safety window films that can help protect all the students and faculty within a school. Security films placed on the interior of windows offer a primary line of defense, as most safety films will minimize the shatter when glass is broken. School administrators can also choose to add additional layers to the exterior.
Understanding Safety Window Film
Safety window films are specialized treatments that make your glass windows safer. They are made from transparent layers of materials sealed together to form a strong bond and come in various options to fit your school's budget while meeting your safety needs.
Additionally, these adhesive materials have at least one layer that bonds to a window to deter break-ins and minimize shattered glass.
When these films are used on the school premises, it won't stop glass from being broken. However, when struck, a binding agent prevents it from shattering into thousands of pieces. The window may still become broken, but the threat is slowed down, and there is less shattered glass that can harm others.
Many students, parents, and teachers worry about the safety and security of their school. Security window films offer a practical solution. Reinforcing glass with security window film is an effective way to protect students, staff, and visitors.
How Security Window Films Are Essential to School Safety
Safety window films safeguard your property without disrupting its visual appeal. These films also enhance the public schools' aesthetics while instilling a sense of security among parents. However, safety window films provide numerous additional benefits.
Discourages Entering Through the Window
The strength and shatter resistance of these protective films creates an effective barrier that can hamper unwanted visitors via windows. This delay is approximately 90 seconds, which can slow an intruder from entering the school.
Although these moments seem insignificant at first glance, these crucial seconds could prevent extensive damage or loss of property through theft.
Impedes Classroom Visibility
Certain security films allow one-way vision. Once adhered to the window or classroom doors in middle or elementary schools, students and teachers can see out, but intruders cannot see in. Not having a visual on potential victims could potentially deter a shooter from entering the building.
Reduces Vandalism Impact
Vandalism continues to be a problem throughout the United States. But after Metro Tint Texas installs your window films, it can mitigate your concerns regarding these destructive activities. Our 3M security film solutions are resilient — nearly seven times stronger than mere glass, making them useful in preventing breakage.
Allows Additional Response Time
A trespasser with firearms creates substantial risks to school safety. Although security window film cannot outright stop a bullet, it slows a trespasser's progression through entrances, gaining precious time for seeking shelter and getting help from the local police station.
These moments are crucial to protecting teachers, children, and anyone else on the school's premises.
Guards Against Shattering Glass
Students and teachers are subjected to numerous dangers in the classroom, including extreme weather conditions. Security window film has anti-shatter properties that can protect teachers and children from flying shards of glass during severe weather events or human causes.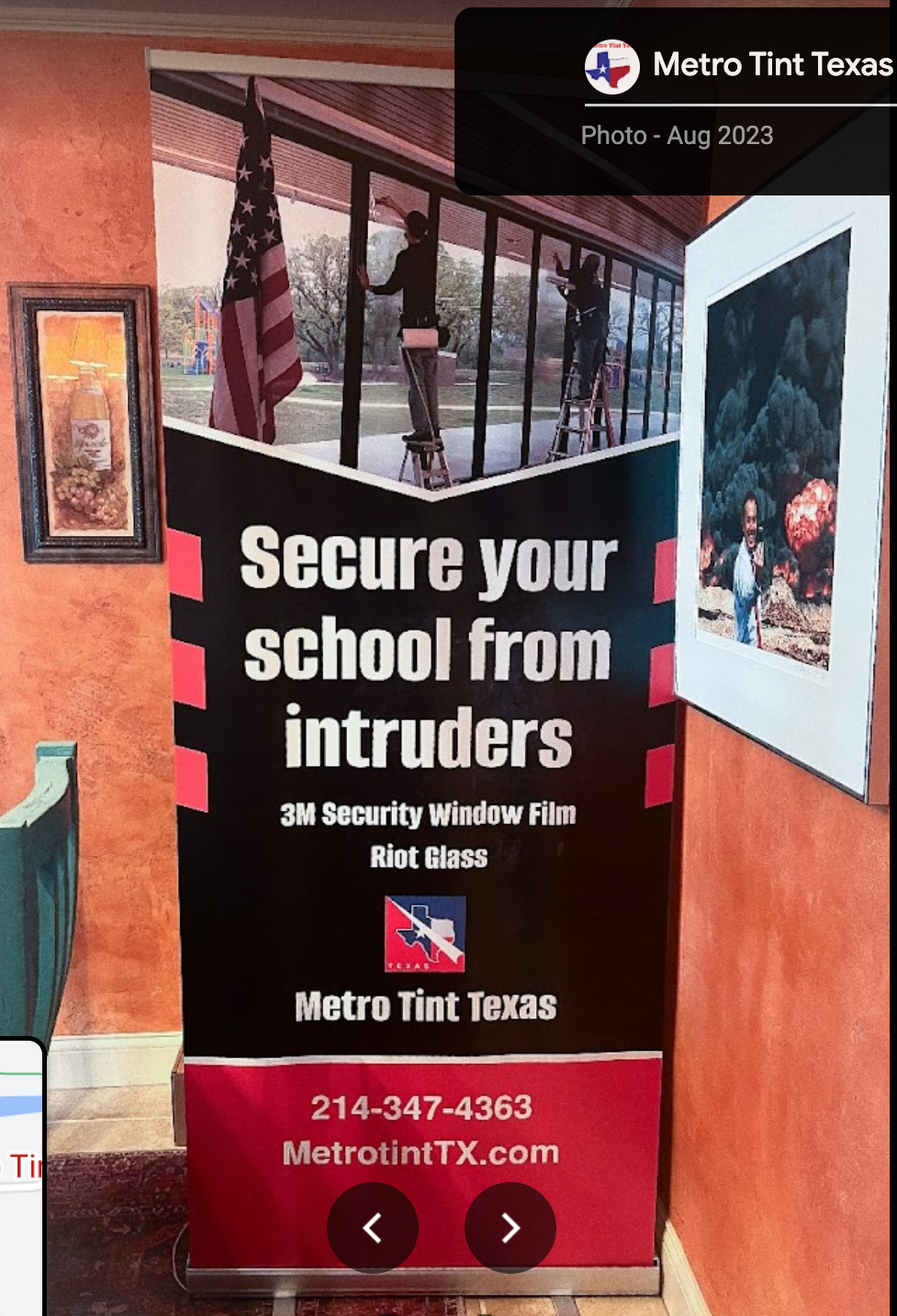 Take School Security Measures Into Your Own Hands
Metro Tint Texas takes school safety seriously. We use high-quality 3M products to create protective barriers at your school. 3M products and our work are on display worldwide because we have been trusted to complete projects in Africa, Asia, and Europe.
Count on our team to install your safety window films throughout your school building. We have 20 years of experience utilizing industry-specific tools and techniques that guarantee correct installation.
The Dallas/Fort Worth area's security window film experts from Metro Tint Texas are ready to help you protect your school. To learn more about how our services will enhance your school's safety and protect your children, contact Metro Tint Texas today to schedule your free consultation.