Commercial Window Tinting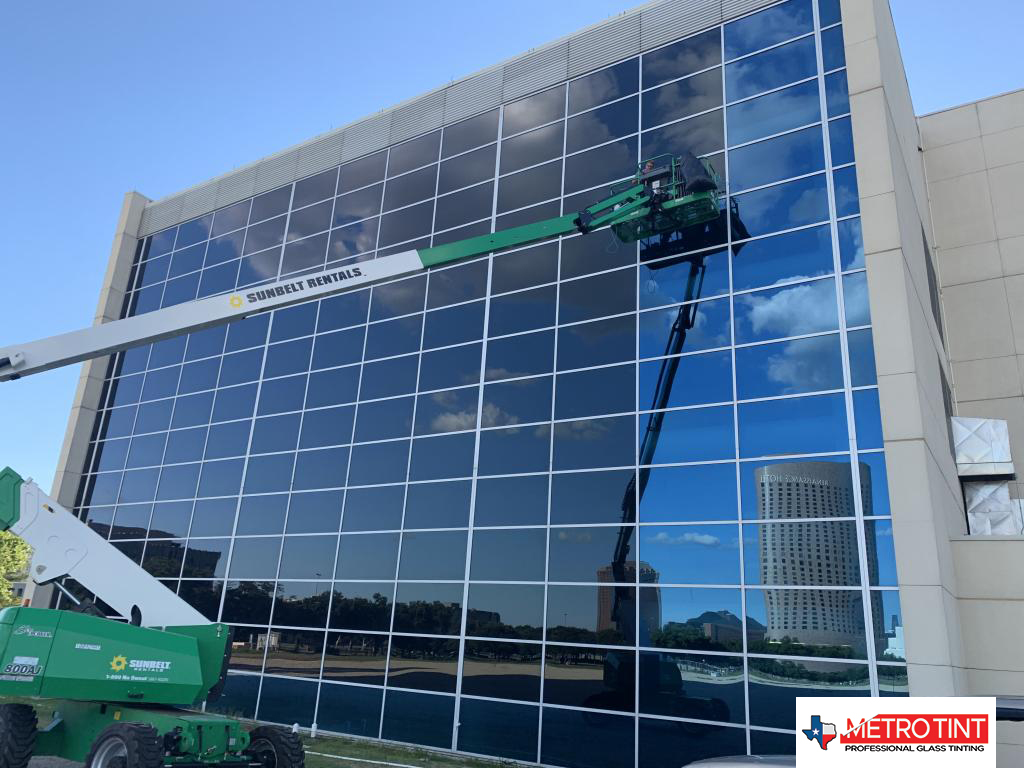 Commercial Window Tinting
Let us show you how professionally installed window film can beautify, enhance and improve your home, office or building. We provide window films, window tinting, and security window films. Give us a call today!
Window Supplier - Providing the Best Commercial Window Tinting Service in Dallas, TX​
Are you a business owner who works out of an office that has large glass panes for windows? Do you notice a significant increase in your energy bills? And you might not know it, but you could be experiencing uneven cooling or having hotspots in your workspace.
Consider professional window tinting. It is a cost-effective solution to your privacy, comfort, and productivity needs. When it comes to offices and other commercial workspaces, a suitable sun shield will help your business in more ways than one.
Here are some of the benefits that you get when you decide to add tint to your office windows:
Quality window tint works in many ways. Whether it be for your employees or your warehouse, tint can serve to protect both people and things from unwanted viewing from the outside.
Anything or anyone that is looking to cause trouble won't have immediate viewing access. Thanks to window tint, it will limit, if not totally block vision from the outside. All the while you get to keep and maintain visual viewing from the inside looking out.
Savings on Your Energy Bill
In business, any kind of savings that are created from operations can already be considered an indirect profit. Thus, it is proof that window tint can directly influence your bottom line. On the other hand, no protection could mean sunlight entering the room and generate heat in so-called "hotspots".
Hotspots make for uneven cooling of the room which then causes the air conditioning to work harder. This will lead to your unit consuming more electricity than it should, whereas having a window tint installed will help neutralize the sun preventing it from coming in. It then subsequently allows for uniform cooling, improving energy efficiency. This means your air conditioner can now cruise along at a steady temperature. It will then use less electricity which translates into savings on your energy bill.
Depending on where your office is, sun glare can become a real problem on clear windows. It can cause significant discomfort to your employees as it creates physical problems like eyestrain, headaches, or plain distraction which can potentially reduce productivity. Tinted windows can prevent all that while keeping your employees cool and comfortable. Comfortable employees mean more focus which leads to increased productivity.
Improves Security and Safety
Apart from being an effective visual barrier for any potential burglar, quality tint can also be an actual physical barrier in an event of a brute force attack. It is a scenario where a would-be thief attempts to break the glass. The window will not outright smash and give way, as the film of the tint will hold the broken glass in place. Thieves know this, and it will discourage them from doing a smash-and-grab heist.
The same is true of accidental projectiles that might hit your windows such as in an event of a storm. In case of an accident, the glass may crack and break but won't go flying to your employees, thereby keeping them safe.
Gives a Good Professional Look from the Outside
A well-chosen color and type of tint that goes along well with your building's façade can definitely create a classy and professional, appearance. There are many styles you can choose from such as gradient color and other unique textures. Having nice professional-looking windows from the outside is always good business. It communicates to your clients that your office believes in reliability, maintaining privacy, and overall safety.
Protects Your Interior Furnishings
UV rays that regularly enter your building can actually cause fading of floors, curtains, furniture, and other items and surfaces. Other things can deteriorate too because of direct sunlight. The application of window tint can prevent color fading and extend the life of your furniture and other indoor items.
We provide window tinting and security solutions in Dallas, Fort Worth, and North Texas.
Whether you own big or medium establishments window films might be the right investment for you. Commercial window film Dallas is the best way to protect your establishment .
Here at

Metro Tint

, we offer the

best quality commercial window film in Dallas

. We have a team of equipped and skilled workers who are experts in installing your window film in your building. 

At Metro Tint Texas, you are assured of a professional install that delivers fast, affordable, and prompt results. Call us today and let our expert technicians provide recommendations on what is best for your business.
Commercial Window Tinting - Expert and Professional Window Tinting with Trusted Service
Highly Commercial Window Tinting Service for Your Home and Security Solutions
Top-rated Commercial Window Tinting Professionals Providing Weekly and Trusted Services
Top Rated Window Installation Company with Leading Services Near You